TriMark has provided mechanical and electronic access solutions for over 43 years and is well known as a leader to the many industries we serve throughout the world. Our comprehensive component and system integration allows for complete keyless entry, security, and ignition control for varying levels of sophistication for on and off-road vehicles, machines and other equipment.
TriMark's expertise in system integration has evolved into a system category called Mechatronics, which combines mechanical and electrical elements to compliment telematics and other data management. Not only is this approach elegant and efficient, it lowers the combined cost for products and simplifies installation mounting and wiring for the OEM installation. Truly another example of smart design that solves problems and reduces cost whilst enabling increased functionality. Operators of non-automotive vehicles not only expect similar security and convenience features as their cars, but often they have even higher expectations for such costly and critical machines.
The last official figures from the UK Government Home Office showed that the annual theft of plant equipment was £70m in terms of capital equipment losses, but it is known that the insurers see that figure as conservative as their pay outs are approximately ten times higher. Much of the plant is not insured or is self-insured, so the real losses will be even higher. IMIA (International Machinery Insurers Association) guestimates that costs to European insurance industry overall is circa 4.5 Billion Euros per annum.
TriMark Security Solutions for Off-road Applications
There are two key areas of emphasis for Off-road security, namely securing the access of cab and immobilising the machine operations. The latter is key initiative for increasing demands for owners and managers of construction equipment.
TriMark's vision for the off-road industry includes satisfying construction operator demands with emphasis on increased security, functionality, and convenience. Included in TriMark existing and new portfolio of products are ruggedised keypads, wireless RF transmitter systems and access components with integrated sensors and micro-motors to complete the mechatronic interface for increased perimeter and system immobilisation security.
With the integration of access and immobilisation, TriMark provides essential elements to meet this global trend for security. TriMark has many proven systems for securing access by locking door systems, but new developments to provide increased immobilisation features allows for the multiple subsystem control, such as ignition switch, starter, fuel pump, and/or transmission. Furthermore, TriMark technology incorporates SAE J1939 CAN communication for further immobilisation via machine data exchange. See diagram below.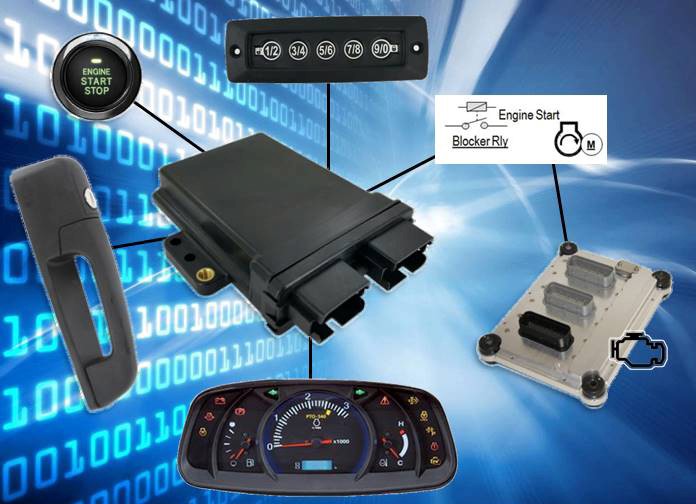 As thieves target more construction equipment, not only are equipment owners demanding more security to protect their investments, further law enforcement and insurance industry experts are organising incentives for owners of machines. This is most prominent in the UK where these organisations provide insurance discounts for equipment with access and immobilisation security. TriMark access and control systems, such as the immobiliser, are fully cabable of Thatcham accreditation which triggers insurance discounts in the UK and other countries.

TriMark Electronic Access ADVANTAGE:
Rugged and reliable systems for off-road applications

Compatible with CAN SAE J1939 or other vehicle multiplexing protocols (LIN or RV-C)

Integrated systems with modular mechatronics

Advanced technology expertise

Ability to integrate with various vehicle, machine, and equipment electronic sub-systems

Patented Intellectual Property

Full service supplier

Off the shelf solutions or custom hardware designs or software development

Excellent design and applications support

Global presence – US, EU and Asia
TriMark's systems are designed for the intense demands of off-road industry including extreme temperature ranges, moisture, vibration, and electromagnetic characteristics but also with advanced communications to enable higher end telematics features provide user inputs and interface. These communications conform to SAE J1939 CAN protocols and enable more effective integration of intelligent modules for OEM vehicle communication architecture.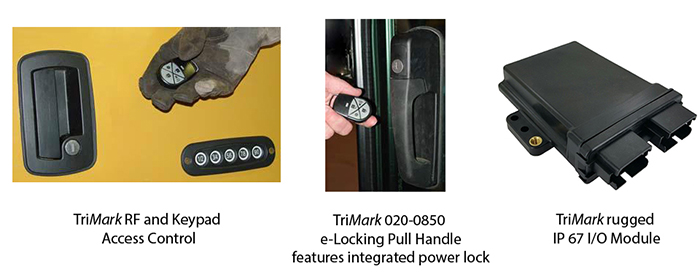 In short, TriMark's user interface products provide a communication gateway to enable OEMs to customise machine features to specific needs of operator, fleet manager and owner. Data is acquired and can be "mined" immediately or later for OEM and/or fleet management review of machine usage, diagnostics, productivity, and accountability purposes.
TriMark's comprehensive components and systems selection allows for complete keyless entry, security, and ignition control for vary levels of sophistication for on or off-road vehicles, machine, or other equipment. Standard electronic controls are available for immediate integration, but also custom adaptations can be provided for specific OEM and customer requirements. These access and immobilisation systems add a further dimension of functionality, convenience and security to ever increasing advanced vehicle architecture. By networking with existing vehicle components, TriMark's modules are complementary for achieving optimal vehicle utility.
For more information, please visit www.trimarkcorp.com or call +44 (0)1530 512460.